Elden Ring, a game released on February 25th, 2022, was developed by FromSoftware and published by Bandai Namco Entertainment. Available on PlayStation 4, Xbox Series X and Series S, Xbox One, PlayStation 5, and Microsoft Windows(PC).
In this article, we will go through all the points of what makes Elden Ring, one of the best and most unforgettable games in 2022.
There will be no spoilers on the story or the bosses in the game.
Overview
Elden Ring, is a soul-like, open-world, action role-playing game. The player will be playing as a Tarnished of no renown blessed by grace who is compelled to make a journey to the Lands Between and become the Elden Lord.
What it means to be a Tarnished, what it means to become an Elden Lord, and how one may go about doing so, all are things that players must discover for themselves.
Selling Points
Immersive Open World
The open-world aspect of Elden Ring is heavily inspired by Zelda: Breath of the wild, one of the best open-world games in the history of gaming, which is known for its unique approach to the open-world genre. One of which is allowing the player to go anywhere they want, literally. The second point is making the main bosses and quests scattered all over the map with minimal information on how to get there, encouraging the player to explore and find their way to that location. Nonetheless, Elden Ring never failed to reward the player's curiosity, with either interesting encounters, a valuable reward, or something even greater.
Astonishing Environment
As a AAA game, there is no doubt that the graphic will be amazing, but on top of that, they manage to create such a mind-blowing world. The first thing that players will see is the giant golden tree which set the player's mind and soul for exploration. It is impossible to resist the temptation to explore when someone is presented with such an extraordinary view, and since it is inspired by Zelda, players are sure that if they see it, they can explore it.
Flexible and Rewarding Gameplay
Elden Ring is a souls game, they are primarily known for their challenging combat with all kinds of enemies. However, at the start of the game, the player may choose their starting class from 10 unique choices; Vagabond, Warrior, Hero, Bandit, Astrologer, Prophet, Samurai, Prisoner, Confessor, Wretch.
Vagabond is highly recommended for those who are new to the souls game genre. On the other hand, the Wretch is perfect for veterans who are looking for a greater challenge. The player will be able to switch classes during the mid-game by resetting and switching around the stats.
Since the map is divided into regions, with each one harder than the other, going to a new region might be a scary thing to do, but the reward is going to be worth the risk. Some regions are unlocked by defeating a certain boss but usually, there will be some secret passage that the player can take to get there and skip the boss entirely, and discovering those secret passages feels very rewarding.
Stats and Weapons In a nutshell
Speaking of stats, there are in total 8 different stats; vigor, dexterity, mind, intelligence, endurance, faith, strength, and arcane. Weapons, spells, and incantations will require the player to have a certain amount of that specific stat to be used. Players will not be able to reset their stats until the middle game, so choose carefully which stat to boost first. Weapons will also have a scaling factor, which will increase the damage to that weapon based on that specific stat. For example, the Longsword requires the player to have 10 points in strength and dexterity to be used, and the higher the strength and dexterity are, the more damage the weapon will deal.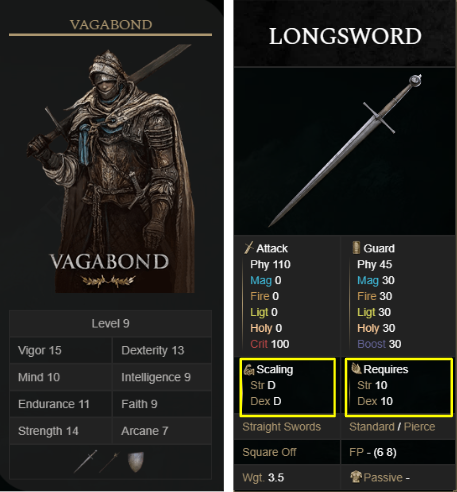 Elden Ring Wiki, check out this website to learn the details about what each stat does to your character.
Summary
Elden Ring, is an open-world, action role-playing game with a splash of soul-like game elements in it. For people who love challenging combats, exploring the unknown, or just simply love playing games, Elden Ring is a must-try. Whether you are new to soul-like games or experienced, this game got you all covered.